Now that the weather is heating up, its time to enjoy those warm breezy nights that are beginning to roll in more frequently. Being the saints that we are, the #westthings crew has once again gone out of our way to make sure that you are up to date on the evening fun Western Sydney has to offer - and as expected, we have proven yet again that there is plenty of cool stuff to go around in this neck of the woods!
Read on for your guide to evening activities in the western 'burbs.
Blacktown Drive in Cinema
$10 per person
Open 7 Days
Bet you didn't know that Sydney's only permanent drive in cinema was right here in the western 'burbs did ya? Having been recently revamped, we can't think of a better place to take your bae on an old school date. Alternatively you get to cry over your #foreveralone status in the privacy of your own vehicle! win win or what? If you're feeling fancy, you might even splash some cash and enjoy the movie from the comfort of the "Gold Grass" section. Sessions start from 8:30 pm onwards.

More info:
http://www.eventcinemas.com.au/cinema/drive-in-blacktown
UWS Observatory, Penrith
Programs: $15 Per Adult; $10 per Child/Conc; $40 per Family
Programs run as per schedule - see link for more details
You might call us out on getting soft for asking this... but do you remember the last time you took a moment to appreciate the stars? Yeah, us neither. Luckily, we have the University of Western Sydney Observatory to help us out! The Observatory runs programs that are open to the public regularly and their state of the art equipment means you're sure to get a proper view of the cosmos (weather allowing). A heads up for any keen beans: plenty of fun is planned their 20th Anniversary, coming up this weekend on the 24th of October.
More info
: http://www.uws.edu.au/observatorypenrith/uws_observatory_-_penrith_campus/whats_on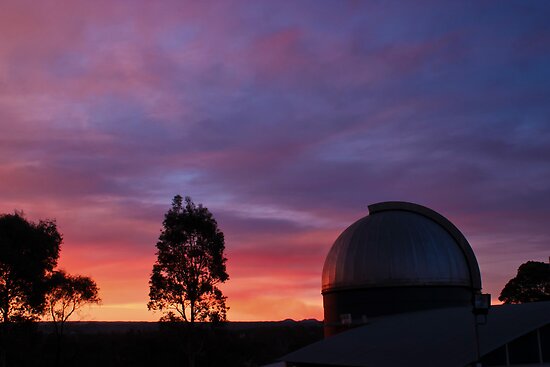 Sydney Indoor Rock Climbing Gym, Villawood
Entry: $16 per Adult; $14 per Student; $12 per Child (Gear Hire Costs Extra)
Open 7 Days
For those of you who are looking for something a little more active, it's time to do away with your fear of heights and check out the massive rock climbing gym at Villawood. Open til 10pm on weeknights, the gym boasts climbs for all different skill levels and even a bouldering lounge for you to try out. For those looking for a belay buddy, Tuesday is 'meet a new partner' night.
More info: http://www.indoorclimbing.com.au/villawood/our-gym/
Liverpool Night Markets
Free of Charge
Run first saturday of Every month
With all the Instagram action we've been seeing around the Sydney Night Noodle Markets, it's easy to forget that us westies have a pretty awesome night market going on ourselves. Filled with delicious food, entertainment and market stalls, these markets run monthly and is free for all to enter. If you're still not convinced, they have street karaoke! If that doesn't win you over, we're not sure if anything ever will...
More info: http://www.liverpool.nsw.gov.au/whats-on/night-markets
Rookwood Cemetery TwilightTours
Price: $15.00 per person
Tours run as scheduled - More information on Link below
For the brave hearts and paranormal fiends among us, this twilight cemetery tour should be right up your alley! Taking you around this expansive necropolis from 5:00pm - 7:30pm, the tour runs from November - March and is sure to give you goosebumps on more than one occasion.
More info: www.friendsofrookwoodinc.org.au/2014-tour-timetable
Images sourced from:
Liverpool Night Markets' Facebook Page
;
Sydney Indoor Climbing Gym
;
redbubble.com
;
cheatedhearts.com.au
,
Aminotti Photos